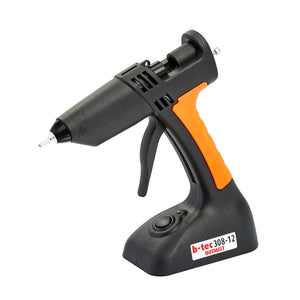 Ultra convenient, cordless hot melt glue gun for use with 12mm glue sticks.  Designed with the Ryobi One Plus system in mind, it is possible to use the BADAPTOR adaptor to allow use of other battery systems, see https://www.badaptor.com/

Ideal if you need to work where there is no power outlet, or if a cord would simply get in the way. 
Technical Details:
B-Tec 308 battery glue gun is designed to work with the Ryobi One+ 18V battery, but with the relevant optional Badaptor it is possible to use the tool with Makita®*, Dewalt®*, Milwaukee®* and Bosch®* Professional 18V batteries.
Suitable for light industrial work or crafting and DIY use, B-Tec 308 runs on battery power with an output of 1kg of molten glue per hour. Features dual temperature toggle switch with eco mode to extend battery life. Warms up from cold in 3 minutes. 
The B-Tec 308 cordless glue gun has ultimate flexibility as it doesn't require a mains power source and is not restricted by power leads, giving users the ability to work virtually anywhere.

Up to 5 hours run time: features a new Eco mode setting that almost doubles battery life for any given battery size. 
Tec cordless glue guns are the only truly professional long run-time battery-operated tools available. Cordless operation provides a new freedom to apply fast-setting hot melt adhesives indoors and out. Perfect for use when mains power is unavailable or to remove the hazard and inconvenience of extension leads and power cables.
Tec cordless tools are designed to use the Ryobi One+ battery system which include batteries in various Amp Hour ratings. The smallest - 2.5 Amp Hour - will run a tec cordless gun for 1 hour 15 minutes in performance mode, or 2 hours 30 minutes in Eco mode.
Batteries are available with 2.5 / 4.0 and 5.0 Amp Hour ratings - the largest of which can power a B-Tec tool for over 5 hours in Eco mode.
    Ryobi One+ battery                       2.5Ah 18V                 4.0Ah 18V     5.0Ah 18V
ECO mode (165ºC)                            2 hours 30 m               4 hours           5 hours
Performance mode (195ºC)                1 hour 15 m               2 hours         2 hours 30m 
By using the correct Badaptor, the tools can easily be adapted to use Makita®, DeWalt®, Milwaukee® and Bosch® Professional 18V batteries. Visit www.badaptor.com for more details.