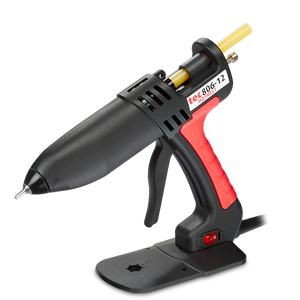 The Tec 806-12 is a replacement for the hugely popular Tec 805-12 hot glue gun and has great new features.
The Tec 806-12 has the new 'eco melt' chamber, designed for low power consumption and the gun is robust & easy to use. It has medium output, a 3 minute warm-up time and a handy illuminated on/off switch. The new Tec 806-12 boasts the same quality, reliability and affordability as its predecessor, the Tec 805-12 and it has some great new features:
soft-grip handle for improved comfort
eco melt chamber design for faster and easier adhesive application
3m power cord (increased from 2m)
improved protection around the on/off switch, preventing accidental operation
Great Design
All of these improvements make using the Tec 806-12 more comfortable to use and because the trigger is adjustable, it can be made suitable for different hand sizes and set to deliver a particular amount of adhesive with each trigger pull. The gun has been designed with a narrow profile, improving visibility when it is being used, helping with the accuracy of adhesive application. The fast warm up time from cold of 2 to 3 minutes means that you are ready to go with your gluing operation quickly.
Reliable Quality
With its PTC self-regulating heater, the Tec 806-12 can operate on any voltage from 110V to 240V and of course it has been built to meet worldwide electrical standards and is covered by a 12 month warranty.
Please note: This glue gun is fitted with a standard MDJ016 nozzle, valve type: Oiler which may cause the glue to drip with certain glue formulations. For improved performance select the high performance nozzle option ADJ010, valve type: ball and seat which reduces dripping considerably.